Community Supported Agriculture
The Program
If you love fresh produce and supporting your local farmers, our Community Supported Agriculture program is the perfect way to enjoy the fruits of our labor.
Commonly known as CSA, Community Supported Agriculture is a program where farmers sell shares of their harvest directly to locals. CSA members pay for an entire season's worth of produce up front, then receive a steady supply of farm-fresh fruits and veggies throughout the growing season.
For farmers, CSA programs provide a reliable source of income at the beginning of the growing season. And for members, CSA programs provide an opportunity to receive a healthy supply of seasonal fresh produce and try new things. Plus, the program helps create a tangible relationship between farmer and consumer. Not to mention, there's also a greater understanding of where your food comes from.
Registration Is CLOSED
Registration for 2023 is closed.
Prefer to print and mail your registration form?
Registration for our 2023 CSA Program has closed.
How it Works

1. Register
Sign up for our Community Supported Agriculture Program

2. Pick Up
Retrieve your box from the pick up site each week

3. Eat
Enjoy delicious, fresh produce and vegetables from our farm to your table

4. Support Local
Know your farmers and support local agriculture
More Information about CSA
Strawberries on 903 is now accepting registration for our 2023 Community Supported Agriculture (CSA) program. To sign up, please visit our online registration portal or print and mail this registration form with payment.
We have numerous returning customers and several new customers interested in this very popular program. We encourage early registration to ensure you don't miss out on our CSA program this year.
Subscribers will receive a box of fresh fruit and produce from our farm each week of a 12-week season, running from May through July, 2023. The assortment of produce will vary throughout the season and contain a wide variety of seasonal items.
Subscribers can purchase a Community Supported Agriculture Program Agreement for 12 weeks for $325. Customers may sign up through the online portal or mail a check and registration form to Strawberries on 903. April 1 is the registration deadline.
Due to the unpredictability of farming, we are unable to guarantee any specific item. We are not able to customize individual boxes; however, we will accept your requests for more of an item for canning, freezing or for a special event. Charges for additional items will be based on quantity ordered. Please provide a 1 week notice for special requests.
Subscribers are responsible for picking up their boxes at the designated pick-up point. We will have multiple pick-up sites and dates depending on the total number of members. Please see the registration form for proposed pickup locations.
We ask that you pick up your box on the designated day you have registered for. If you will be away (i.e. vacation or business travel), you are encouraged to find friends or another family member to pick up your box as we are unable to credit missed pick-ups. If you miss a weekly pick-up, your share will be donated to charity.
Pick up locations this year include:
– ECU Medical Campus (Family Medicine & Geriatric Center Parking Lot), Wednesdays at 5pm
– ECU (College Hill Parking Lot), Thursdays at 5pm
– Pitt County Council on Aging, Fridays at 5pm
– Strawberries on 903, Fridays from 10am-1pm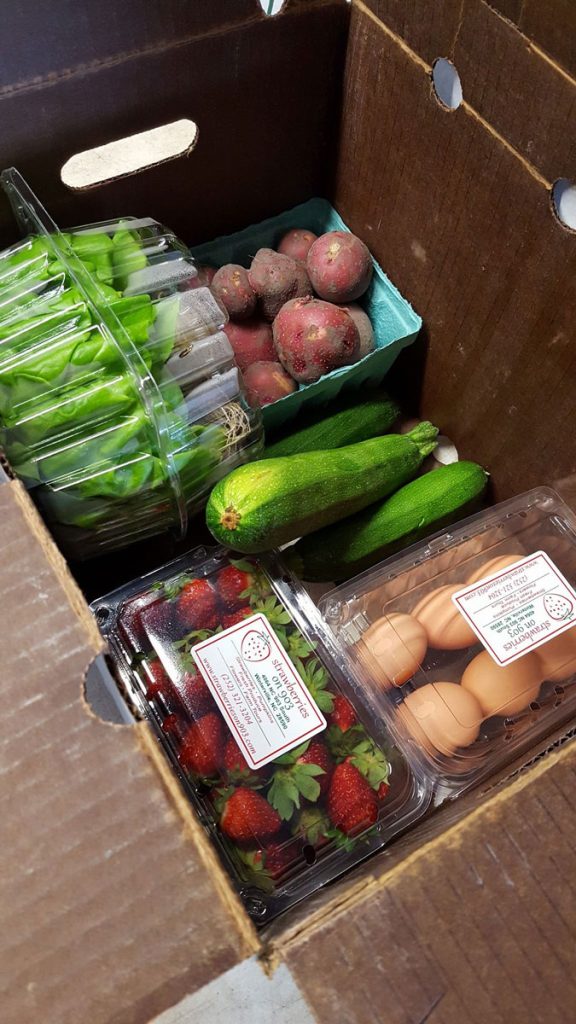 Please find the list of expected fruits and vegetables we plan to provide for the 12-week season below.
May Produce
Asparagus, cabbage, strawberries, spring onions, sweet onions, red potatoes, sweet potatoes, tomatoes, garden peas, beets, broccoli, carrots, cauliflower, kale, radish and lettuce
June Produce
Yellow squash, patty-pan squash, zucchini squash, sweet potatoes, red potatoes, beets, sweet onions, carrots, cucumbers (slicers, pickles and burpless), tomatoes (slicer and grape), lettuce, cauliflower, blueberries and peaches
July Produce
Squash, zucchini, eggplant, sweet corn, sweet potatoes, red potatoes, cucumbers, tomatoes, okra, cantaloupe, watermelons, peppers (bell, banana and hot), snap beans, butter beans, lettuce, collards, blueberries and peaches
REGISTRATION IS CLOSED
Registration for our 2023 Community Supported Agriculture (CSA) program is now closed.